I received an Advanced Reader's Copy of this book from Netgalley for an honest review! So thank you to Netgalley and to Jelly Bean publishing for allowing me to read this book early.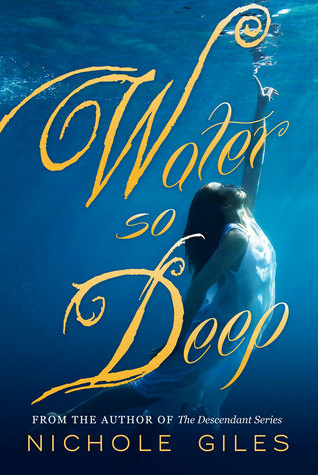 Release date: 2nd February 2015.
Synopsis:
Seventeen-year-old Emma Harris is drowning on dry land.
No one knows what's happening to her, and she'd like to keep her evolution from human to mermaid a secret, but the truth is getting harder and harder to hide. From her adoptive family, from her friends, and especially from the irresistible James Phelps.
Her time in the ocean is spent dodging a possessive merman, while her time on land is split between caring for her special-needs brother and squeezing in every last possible moment of human life. She soon realizes falling for James is unavoidable when he constantly comes to Emma's rescue and somehow manages to see through her carefully constructed icy facade to the vulnerability she lives with every day. Everything about James makes Emma yearn for a life on land she just can't have.
When Emma's brother disappears on her watch, James is the only person she trusts to help her save him. But even if they can save her brother, nothing can prevent her return to the sea. Whether she likes it or not, Emma is changing—unable to breathe without yielding to the tide—and it's only a matter of time before she's forced to surrender forever'
First things first, this book was not what I expected. I was expected the typical boy meets mermaid love story but I was wrong. The story followed seventeen year old Emma, a girl who is slowly transitioning into a mermaid in time for her eighteenth birthday- and only her grandmother, the woman trusted with her upbringing, knows. Her parents, her brother, and even her friends, have no idea who she really is.
The story opens with quite a dramatic scene- Emma is hurt by a boyfriend- an event that effects her through out the rest of the story. I was hooked from this book and I read it all within two days.
Another great element of this book is the representation of a character with special needs. It's never mentioned what sort of special needs Emma's brother has but it was a welcome change to read in a YA novel.
I'm a sucker for mermaid fiction- but as much as I love this book, there were also some smaller things I was not so keen on, which is why I have rated it three stars out of five. One of them was the fact that it was a little slow in some places, and Emma's attitude got to me sometimes.Also, the ending. It didn't really have a concrete ending- unless there's a sequel somewhere out there. If not, it wasn't how I expected a stand alone to end. Oh well.
However, I dare you not to fall in love with James Phelps. He seems like a pretty decent guy. All the characters had their own endearing qualities, apart from the basketball team. They were douchebags.
Good book, good imagery, good concept.
I liked it. 🙂