I saw this tag on thewildreaders and instantly felt the need to do it, Disney movies are my go to movies to cheer me up, it's a huge part of my life- so this tag? Doing it!
Favourite Character: The mighty and powerful….MUSHU. What can I say, he's just hilarious!
2. Favourite Princess: I know a lot of people don't like her, but Ariel will always be my  favourite princess. A L W A Y S
3. Favourite Heroine: I'm going to have to agree with Paige here…Mulan. She goes to war to protect her father and that gives her the rightful place as heroine.

4. Favourite prince: Ol' blue eyes himself- Prince Eric *swoon* (plus he likes dogs 😉 )

5. Favourite Hero: I had to decide between two, I was going to go for Hercules but then…I remembered this guy…agreeing with Paige again, with Flynn Rider.

6. Favourite Animal: Technically this counts as two. That's not cheating, right?

Timon and Pumbaa for the actual win.
7. Favourite sidekick: I can't not say the Genie. R.I.P Robin Williams :c

8. Favourite villain: Easy. Scar. Dark but so suave about it!

9. Favourite Original character (Minnie, Mickey, etc): Goofy! He's just so clumsy it's hilarious.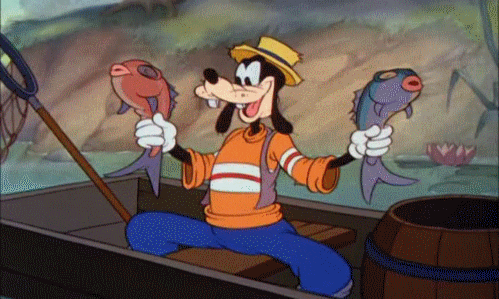 10. Favourite Love Song: A Whole New World from Aladdin

It's just so cute!
11. Favourite song: hahahahaahah I have many, but I'll go with the one from my favourite Disney film, Part of Your World from The Little Mermaid

12. Favourite villain song: Again from The Little Mermaid- the absolute sass of Poor Unfortunate Souls.

13. Least favourite song: um….maybe Pink Elephants on Parade from Dumbo? It's just weird.

14. Favourite kiss: OH GOD SO MANY TO CHOOSE FROM. UMMMMM…..

(okay so i'm baised- shoot me)
15. The first movie you saw: I actually can't remember I think it was either Bambi or The Fox and the Hound, both heartbreaking but those are the ones that come to mind.
16. Favourite Classic: The Little Mermaid (OBVIOUSLY)
17. Song that always gets stuck in your head:

Yup.
18. Favourite Pixar film: It's a toss up between Brave and Wall-E
19. Least favourite Pixar film: Cars- I've not seen it because I'm positive I won't enjoy it.
20. Favourite sequel:

I just really liked it.
21. Overrated movie: Again, agreeing with Paige and going Frozen- yeah I like the film but c'mon guys, its been out TWO YEARS- let the hype go away!

22. Underrated movie: BASIL THE GREAT MOUSE DETECTIVE AND DON'T TELL ME OTHERWISE. Ha! Knew I'd get a Sherlock Holmes link in eventually. I love this film. It's so different and I just think it's really clever.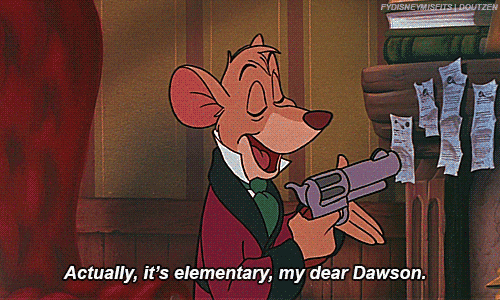 23. Movie that makes you laugh: The Emperor's New Groove- I just, it's genius.

24. Movie that makes you cry: The majority of them? Especially Lion King, Toy Story 3, Up, basically most of them. I couldn't pin it on one.
25. The saddest scene from your favourite movie: THE START OF UP. Need I say more?


*bawls*
26. Saddest death: Ellie's (above) or Mufasa's. SIMBA TRYING TO WAKE HIS DAD UP D':


I'm welling up just posting this gif oh my god :C
27. Favourite quote:

28. Favourite theme park?
Euro Disney- or Disneyland Paris as it is better known 🙂
29. Favourite Theme Attraction: Space Mountain rollercoaster or the Pirates of the Caribbean ride.
30. Favourite Theme Park show?
I've never actually watched a park-edition show apart from Mickey's Winter Wonderland and a condensed version of The Lion King so….I'll pass on this one.
This tag was so much fun to do!
So glad I pushed my way through it because in the end it was worth it and all the Disney has given me a warm feeling inside.
Thanks for reading!
~Katie