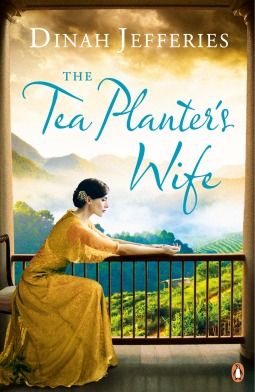 Read between: 14th-17th of February
Format: ebook
2016 Reading Challenge: A book about a culture you're unfamiliar with
Number of pages: n/a
Publisher: Penguin
Published: September 3rd 2015
Synopsis: Nineteen-year-old Gwendolyn Hooper is newly married to a rich and charming widower, eager to join him on his tea plantation, determined to be the perfect wife and mother. But life in Ceylon is not what Gwen expected. The plantation workers are resentful, the neighbours treacherous. And there are clues to the past – a dusty trunk of dresses, an overgrown gravestone in the grounds – that her husband refuses to discuss. Just as Gwen finds her feet, disaster strikes. She faces a terrible choice, hiding the truth from almost everyone, but a secret this big can't stay buried forever . . .
Rating:
Review: Historical fiction and tea- that was the premise I went on when I decided to request this book last year from Netgalley  To be honest, I wasn't expecting much but I enjoyed it all the same. There was a slow start but once I got going I was immersed into the world and the characters and I didn't want it to stop. Gwendolyn Hooper is only nineteen when she arrives in Ceylon to make a new life for herself with her new husband, but being so close to my age, I suddenly thought how vulnerable she must have felt. She was so young but I really connected with her, as although I'm not from that time period, I can only imagine what it would have been like if it was me. To start with I thought she was going to remain uncomfortable with her new home for most of the book, but I was wrong, she settled rather quickly and I was glad of this because I think otherwise, the book would have been rather gloomy and I wouldn't have enjoyed it at all.
The very first chapter of the book confused me. It wasn't until further on in the book that the woman was Lawrence's previous wife, Caroline, and that what I had read at the beginning were the last moments she was alive before she took her own life. The way it was written, foreshadowed later events, but also creating an understanding of Lawrence's wariness when Gwen's demeanour changed after she gave birth to his child. He clearly didn't want to same thing to happen again. Losing one wife and son must have been hard, but two? Thank heavens it didn't end in tragedy- well not for Lawrence anyway. Gwen held a secret, after giving birth to twins, because she had to give one up.
Why?
The little girl had brown skin and the time period the book is set in meant all kinds of hell could have broken lose. She would have been accused of all manner of things, after all, how can two white people make a brown baby? The answer she comes up with made me shudder, when she begins to think another character, Savi, took advantage of her after he took her to her bedroom when she'd been drinking too much. She then hates him- even though she has no proof- she was drunk, how can she know what really happened?
Giving away her daughter, Liyoni, forms repercussions that stay with Gwen as she gets older and life moves on on Hooper's tea plantation. Eventually, there is heartbreak, and the moment it happened, I really felt what Gwen was feeling.
Guilt, anger, devastation.
The damage was irreversible and she'd lost someone she'd always loved but barely known. I knew it was going to happen, but it still hurt when it did.
I would say if you're a younger reader, maybe don't read this book if you don't like adult scenes as there are a fair few- which is to be expected between a husband and wife of course, but there are also hints toward unfaithfulness and/or rape, which put me off the book slightly. I'm just glad that the rumour mill was put to bed and that Gwen and Lawrence remained blissfully happy with their son Hugh (Liyoni's twin) until the end.
All of the characters had an affect on me, Naveena the ayah, seemed like such a sweet woman. The only character I really took a dislike to was Verity, Gwen's sister-in-law, not only does she try and inadvertently kill Gwen by giving her an overdose, she's whiney and clingy towards her brother and I honestly couldn't understand why Lawrence put up with her. She got really bitchy the more I read, even though she ended up alright in the end.
Honestly, the best thing about this book was the culture of Ceylon, it opened my eyes to what goes on behind the scenes of my cup of tea- the plantations were interesting and the workers, the majority of them, were calm and kind and respected those who employed them. However, when they disobeyed, I was ashamed to be English, but the cultural differences were clear. Cultural differences are still very much at play today, although slightly different, it really made me think about what many people of colour go through.
3/5 stars.
It lost a couple of ratings when the drama started, but I'd still recommend it and I still enjoyed it! I'd recommend it because it's really interesting to get to know a different culture and to understand how the tea trade works- although fictional, there must have been research done- which I appreciate.
Let me know your thoughts if you'd read this book!
Thanks for reading!~Katie