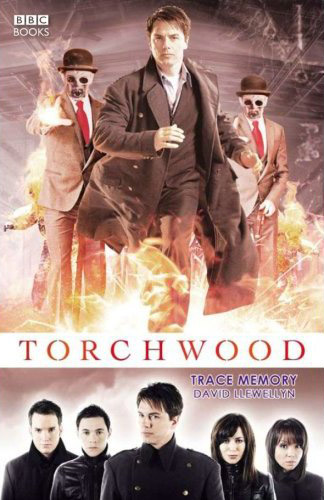 Read between: 7th-9th May
Format: Hardcover
Number of pages: 256
Published: March 6th, 2008
Publisher: BBC Books
Synopsis: Tiger Bay, Cardiff, 1950: A mysterious crate is brought into the docks on a Scandinavian cargo ship, the Kungssangen. Its destination: The Torchwood Institute. As the crate is offloaded by a group of local dockers it explodes, killing all but one; a young Butetown lad called Michael Bellini. Fifty-eight years later a radioactive source somewhere inside Torchwood leads the team to discover the same Michael Bellini, still young and dressed in his 1950s clothes, cowering in the vaults. As they question the intruder, it becomes apparent that each of them has met him in the past. All of them remember him talking incoherently about terrifying "Men In Bowler Hats" and little more, but it's Jack who remembers him best of all…
Rating:
Review: The Torchwood team are alerted to an intruder in the hub. The weird thing? They all remember meeting him at some point in their lives. So there is only one question: Who is Michael Bellini and why has he randomly appeared- and how?
The book also takes place over on Sunday night- as well as various different time periods. Michael had an accident in 1953 and can now involuntarily time travel! He also brings danger- The Vondrax- beings in bowler hats that are set upon Michael's destruction.
Can the Torchwood team help him and discover the secrets of the silver orb he was found with?
I haven't watched the series in a while, but this book took me straight back to the show and characters I know well. I also liked the fact that Ianto is a MASSIVE Bond fan. That little fact actually explains quite a lot about some of Ianto's character traits.
However, it was much more about Michael than the Torchwood team, because, apart from Jack, they were only minor characters in Michael's life. He and Jack were a thing back in the 60s and they were so cute together!
It was great to re-enter the Torchwood world, and re-familiarize myself with the characters. I really enjoyed the story, and it was such a quick read, because the story was interesting as well as fun!
4/5 Stars.
A nice easy read and a great Torchwood adventure!
Thanks for reading
~Katie