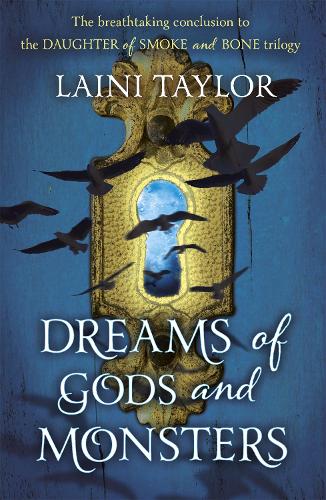 Read between: 14th- 21st August
Format: ebook
Published: April 8th, 2014
Publisher: Little Brown
Synopsis: Two worlds are poised on the brink of a vicious war. By way of a staggering deception, Karou has taken control of the chimaera's rebellion and is intent on steering its course away from dead-end vengeance. The future rests on her.
When the brutal angel emperor brings his army to the human world, Karou and Akiva are finally reunited – not in love, but in a tentative alliance against their common enemy. It is a twisted version of their long-ago dream, and they begin to hope that it might forge a way forward for their people. And, perhaps, for themselves.
But with even bigger threats on the horizon, are Karou and Akiva strong enough to stand among the gods and monsters?
Rating: 
Review: In the final installment of the series, angels have invaded Earth and taken over the Vatican, dead chimaera have been dug up, and a scientist, Eliza Jones, has a secret that she tried very hard to run from.
Although they're on the eve of a war between species, Karou is busy resurrecting chimaera and using that skill to fool them into thinking Ziri is Thiago, so that they can trust him. And hint of mistrust and they could lose their army…
As I know Karou and Akiva pretty well by now, I actually preferred the side characters more in this story- especially Mik and Zuzana, who seemed to have grown in character since the first book- especially considering they're out of their comfort zones- quite literally!
Despite the war going on, they still find time for each other.
It was also great to see Karou's fake grandma, Esther again, although the outcome of her return definitely wasn't what I expected. I didn't see it coming and it was definitely a shock! Just goes to show that you don't always know the people closest to you.
There was plenty going on to keep me reading, from the war to Akiva and Karou and their 'will they? won't they?' relationship, but especially the revelation about Eliza, and her true genetics. If she hadn't been dragged to examine the bodies of dead chimaera, and left her phone in unsafe hands (stupid Morgan Toth), maybe she could have kept her secret for longer.
I liked it though. It made her more important than just a background character.
I enjoyed the series! It didn't end how I thought it was going to, I'm not complaining though- it worked. I still think the first book is my favourite though!
4/5 stars.
A great fantasy series, I'd recommend it!
Thanks reading
~Katie